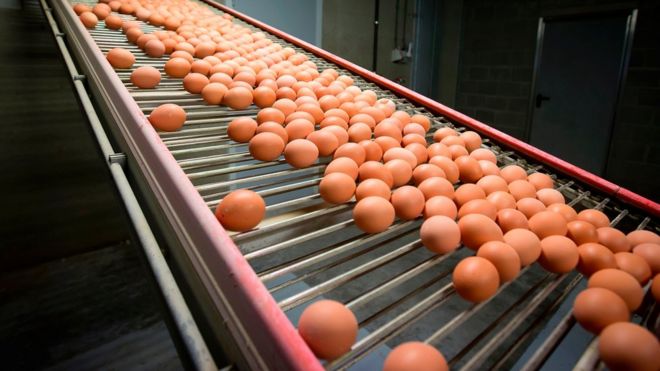 The boiled and peeled eggs were mainly sold to cafeterias, cafes and catering firms, the Danish Veterinary and Food Administration said in a statement.
Denmark is the latest European country to discover eggs contaminated with fipronil in its food chain.
The insecticide can damage people's kidneys, liver and thyroid glands if eaten in large quantities.
However, the Danish food administration urged calm, saying the eggs bought by Danæg Products posed no risk to human consumption.
Eggs scandal: 700,000 distributed in UK
What do we know about the Europe egg scare?
"Samples analysed in the Netherlands show traces of fipronil in the eggs, but not as a health hazard," the agency said [in Danish]. "Because the content is illegal, Danæg Products must withdraw the eggs from their customers."
Twenty tonnes is the equivalent weight of two-and-a-half African elephants.
Denmark is believed to be the tenth country affected by the widening scandal, with Romania and Luxembourg among the latest to report finding contaminated products.
The majority of the eggs have originated from the Netherlands, but also from Belgium and Germany.
Romanian authorities said on Thursday that one tonne of liquid egg yolk contaminated with fipronil had been found in a warehouse in the west of the country.
The product was imported from Germany but had not been sold to consumers, food safety officials said.
It also emerged on Thursday that two managers at a Dutch company had been arrested during joint raids by Dutch and Belgian authorities.
The company – named as Chickfriend by local media – allegedly used fipronil at poultry farms, prosecutors in the Netherlands said.
Fipronil is banned from use in the food industry under EU rules.
In a statement, the prosecutors said investigators were also focused on a Belgian supplier, and another Dutch company "that colluded with the Belgian supplier".
They added: "They are suspected of putting public health in danger by supplying and using fipronil in pens containing egg-laying chickens."
[ Source : bbc ]