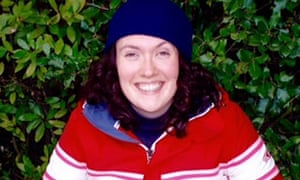 A mother who killed herself while suffering from postnatal depression died as a result of a "very serious failure" that allowed her to leave a mental health unit unchaperoned, a coroner has ruled.
Despite having made multiple attempts to kill herself, 32-year-old Polly Ross was allowed to leave the Westlands mental health unit in Hull at about 8.30am on 12 July 2015, telling nurses that she was going to buy cigarettes. She was hit by a train at 11.10am and died instantly.
Speaking at the end of a four-day hearing, coroner Prof Paul Marks said he could not rule that Humber NHS foundation trust had been guilty of clinical neglect, but said the decision to allow her to leave the unit "had a direct causal effect" on her death.
Her mother, Jo Hogg, who was previously employed by the trust as an occupational therapist, thanked the coroner for conducting a "frank and fearless examination" of the circumstances surrounding her daughter's death.
She said the trust had failed her daughter when she had needed their help the most and that care for women with postnatal depression in the region was "appalling". She said that mental health services were "not joined up in a way that pays close regard to the complex needs of patients".
The court heard how Ross, who ran a translation business in Paris before moving back to east Yorkshire in August 2012, had suffered from the extreme form of morning sickness, hyperemesis gravidarum, during both her pregnancies in 2012 and 2014. The condition has received media attention after it was revealed that the Duchess of Cambridge suffered from it during her pregnancies.
The condition caused Ross – who was described as "staggeringly intelligent" – to be hospitalised and put on a drip, which was said to have compounded her mental health issues. The inquest was told that she developed "drug-induced psychosis" after taking cannabis to relieve her symptoms and that when she asked to be admitted to a specialist mother and baby unit in Leeds, she was turned down.